Remix contest- How Do You Like Me Dancing by Andrey Vakulenko
Andrey Vakulenko with the support of PROMODJ and one of the biggest Russian DJ-equipment shops BAZA announce a competition – to make the best remix of the new track called How Do You Like Me Dancing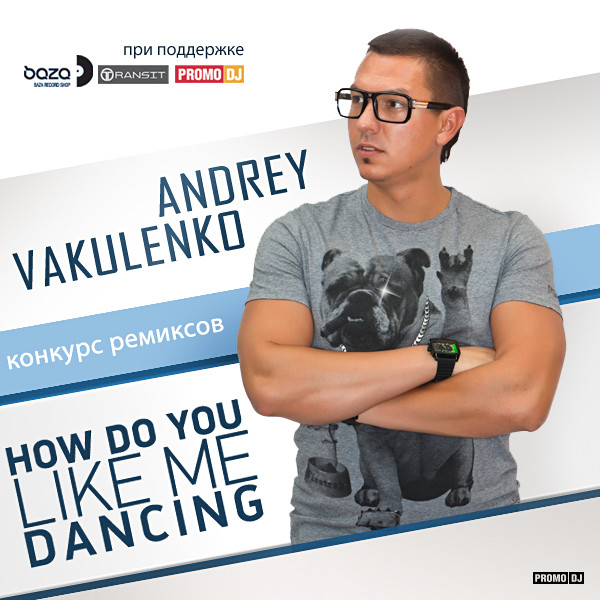 HOW DO YOU LIKE ME DANCIMG @ Andrey Vakulenko
The contest starts on May 15 and ends on June 15. The winners will be announced in early July.

Download the REMIX PACK
Requirement for contestants:
- you must be registered on promodj.ru as an artist; 
- you can send only one remix;
- your remix must be called only this way: Andrey Vakulenko – How Do You Like Me Dancing (your name remix);
- you have no limits in music style, nevertheless you should keep in mind that tracks which have prospects in playing on radio stations and mainstream club dance floors are going to win;
- your remixes must be full version, in mp3 format, in quality 320kbps;
- you remix placed on promodj.ru must be forbidden for downloading for other registered users if not youare automatically out of competition;
- any commercial usage of the original track, its parts and your remix is forbidden (no difference if you are winner or not);
- any spam by posting your remix on another's page, sending it by e-mail to other promodj.ru users is forbidden and will lead to deleting your remix and possible ban against your activity on promodj.ru.

The winners will be chosen by Andrey Vakulenko himself.

Three artists who will make the best remixes of the track How Do You Like Me Dancing by Andrey Vakulenko will get the following prizes from the shop BAZA: