Pitch Music Publishing представляет 2CD компиляцию с треком проекта Perception of sound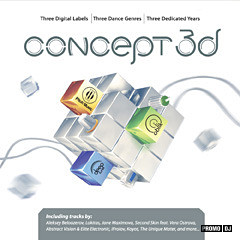 Двойная компиляция «CONCEPT 3D» приурочена к началу нового десятилетия, в которое вступают лэйблы Музыкального Издательства «Питч» - Pitch Music, Deep Tune и Oblik Records. Два микса демонстрируют яркую концептуальную линию, которой придерживались лэйблы за все время существования, сформировав оригинальный саунд каждого из них.
На двух дисках собраны лучшие треки и ремиксы, выпущенные за прошедшие три года и не раз ставшие ярким дополнением к миксам известных ди-джеев со всего мира. 
Доказательство тому - нахождение в плэй-листах и чартах многих звезд мировой клубной сцены - Armin Van Buuren (Armada), Above & Beyond (Anjuanabeats), Marcus Schulz (Armada), Andy Moor (AVA), Benz & MD (Armada), Mike Koglin (Positiva/Multiply), Hernan Cattaneo (Bedrock/Renaissance), D:Fuse (Perfecto), Deepsky (Perfecto/Yoshitoshi), Ian Ossia (Renaissance/Whoop!), Solarstone (Deepblue), Flash Brothers, Eelke Kleijn, Cassino & Laben.
Треки, вошедшие в компиляцию, стали украшением не только радиоэфиров мировых радиостанций интернет и FM- диапазона (Proton, Galaxie FM, DI.FM, Pure FM, Megapolis FM, Last FM), но и были удостоены презентации в самых известных и культовых авторских радиошоу, ведущих ди-джеев прогрессив-транс сцены - Armin Van Buren (A State Of Trance), Marcus Shulz (Global DJ Broadcast) Above & Beyond (Anjunabeats Worldwide Radio Show), Solarstone (International Radio Show).
Встречайте яркие имена нового поколения клубной электронной сцены - Lokitas, Aleksey Beloozerov, Kayot, Basil O'Glue, Aeron Aether , SecondSkin feat. Vera Ostrova, Abstract Vision & Elite Electronic, Perception Of Sound, The Fusion, Jane Maximova, и многих других талантливых музыкантов, чье творчество появилось на лэйблах Музыкального Издательства «Питч» и стало признанным среди профессионалов и поклонников прогрессив-транс музыки во всем мире.
V/A - Concept 3D / Three Digital Labels. Three Dance Genres. Three Dedicated Years. 
Каталожный номер: PITM-006CD-DGP 
Дата релиза: 08 марта 2010 г.
Tracklist:
CD1:

01. Lokitas - Magenta Part 1 (Michael & Levan remix)
02. Promonova - Two Equators (Mango remix)
03. Aleksey Beloozerov - For Those Who Sleeps (Original mix)
04. Dave Redline - Tranzit (Aeron Aether Remix)
05. The Unique Matter - Another Place (Original mix)
06. Aeron Aether - Aikhy (Original Mix)
07. Aleksey Beloozerov - October (Solid Sky pres. Liquid Ground remix)
08. Lokitas - Indifference (Aleksey Beloozerov remix)
09. Grigory & Anthony - Other Melody Part 1 (Lokitas & iFrolov remix)
10. Kayot - Space Shot (Original mix)
11. Igor Timofeev - Guilty Angel (Teana & Tiida remix)
12. Perception Of Sound - World War II (Storm Dub mix)
13. 11.8 - Red October (Original mix)


CD2:

01. Kayot - Air (Original mix)
02. The Fusion & Jane Maximova - Behind Rain Waves (Mars edit)
03. Basil O'Glue - It's The Truth (Original mix)
04. iFrolov - Drop By Drop (Vitalik Tunerman remix)
05. Water Flame - Pacific Moon (Original Mix)
06. Igor Timofeev - Guilty Angel (Original mix)
07. Abstract Vision & Elite Electronic - Solina (Original mix)
08. Jane Maximova - Switch - Mars Edition (Costa remix)
09. The Fusion feat. Peter Reay - Long Way (Original mix)
10. SecondSkin ft.Vera Ostrova - Run Away (SecondSkin Magic Bells re-edit)
11. Grigory & Anthony - Other Melody Part 1 (SecondSkin remix)
12. Kurt - Save My Dream (Original mix)