Remix Contest
Man-ro Music together with Promodj.ru declares a remix contest on a track:
DJ Lenka Feat. Nika Lenina - Only For You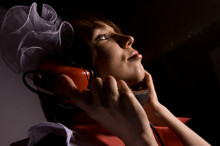 Dj LENKA (Elena Kalynkina) was born on February, 15th 1982г. In the city of Moscow. In her family, strangely enough there were no musicians, but since the childhood Elena was overcome by bent for to music. Adored to sing, dance and especially to play on primitive tools. Now DJ Lenka actively advances music production in Russia and also behind its limits.
In 2008 has opened in itself talent of a writing of texts (english, Russian, Ukraine) for dance music, vocal melodies, parties and it is direct (together with DJ's) realizations of all of it! Now cooperates with many DJs and sounds-producers
Contest Rules:
Any person registered on a portal PROMODJ.RU as the musician can take part in competition of remixes. The remix-pak of a track and time for remix creation is given to participants. Ready remixes, in the form of the definitive version and a format file mp3 not more low 256 kbps, participants of competition publish on the page (closed for downloading!!! With the comment that the track participates in competition of remixes) and on contest page.
Rules of selection:
The remix can be executed in following styles - House, Electro, Progressive, Tech. Experiments are welcomed.
The basic rules for remix:
1- Clubbing
2- Quality production sound
3- demand of sound
Your remix should have the following name - DJ Lenka Feat. Nika Lenina - Only For You ("Your Nickname" Remix)
Original mix and Remix parts download - Here
Competition prizes:
1 place -
Ear-phones Sennheiser hd 25 and
the edition in the second part of release
premium an account on promodj
2 place -
Effector Korg kaoss pad 3
premium an account on promodj
3 place -
premium an account on promodj
RESULTS OF CONTEST:
1st. Place - Dj Gladiator - gladiator.promodj.ru
2nd.Place - Dj Fanatique - djfanatique.promodj.ru
3rd. Place - Agent Orange - agento.promodj.ru
delivery of prizes: will begin a 5 of april.
Link for delivery - lenkadj.promodj.ru
BIG THANKS FOR ALL!
Dance
DJ Lenka Feat. Nika Lenina - Only For You