RUNE014BLACK: Freak Da Bass - Stylish People / Club District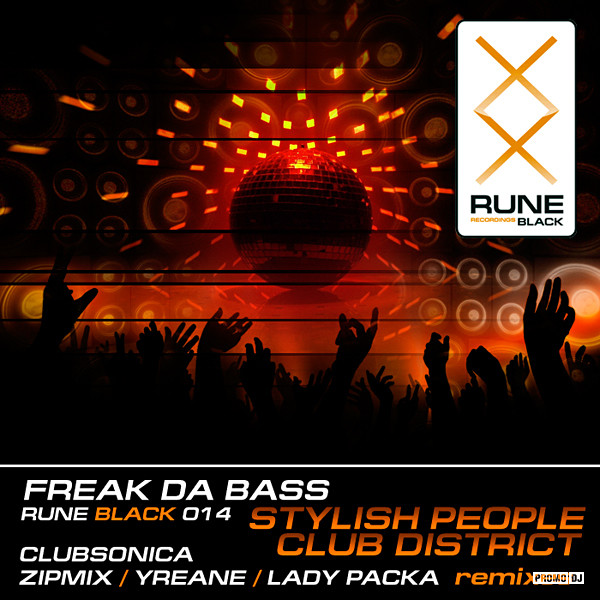 «Style is nothing but order and vivacity, in which we shape our thoughts. » (J. Buffon)
The summer season is open! «RUNE014BLACK: Freak Da Bass – Stylish People / Club District» - it's a new page of the catalogue of the label, which is filled with tech-sound and good mood! : )
He was a really precious finding for RUNE Recordings, a young and talented producer Freak Da Bass! Oleg, he is a real generator of fresh ideas, having found realization in the stylish music – two tracks - 'Stylish People' and 'Club District'.
> Light sound, which was proposed in the original version of 'Stylish People', is expressing light and even relaxed mood of the people who are eager to dance. - We are adapting, adjusting to the club, establishing the social harmony with 'the friends at the night'.
> Good drive of the breaks, which is bursting the picky dance floor, - that is exactly is the debut remix of the residents of RUNE – Russian trio Clubsonica. - The dance floor is attracting more people, welcoming smiling ravers. : )
> The Ukrainian musician Zipmix is being inspired by the 'old school' of nu skool breaks. The remix by Yarik is a modern reproduction of the past British sound, and, meanwhile, is the gesture of respect towards the art of Plump DJ's. - The nature of the music is becoming uncontrollable!
> The original of 'Club District' opens the second part of the EP – it is more rough by the manner and performance. The aggressive sounding is fast to accelerate the flow of adrenaline through the blood and is stimulating our brain activity with its beta-waves. - The night is in full swing!
> A professional DJ, a competent producer and just a nice girl is Lady Packa, who is teaching a techno-lesson to the listeners of the breaks-music. The remix of Francisca is passing an acid atmosphere of a club district. - The club space is filled with dance!
> Unexpected sound is being proposed by Russian musician Yreane. The remix of Boris is a powerful stimulator of outrageous dancing in the middle of a summer night. - The synergetic effect is reached: the ecstasy – it is the feeling, which is being uniting the people hanging out.
The feeling of one's unique movements is the core of the style. Let yourself to feel the joy of the dance even in the company of strangers. The RUNE team wishes to all and everyone to have happy summer dawns! : )
Released by: RUNE Recordings 
Release/catalogue number: RUNE014BLACK 
Release date: Jul 17, 2011