MESMER "CUBES" OUT NOW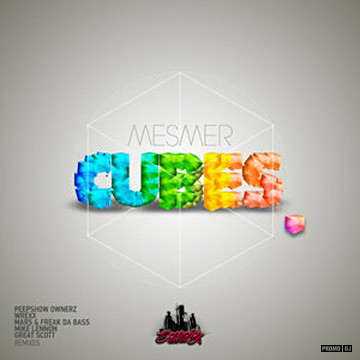 Mesmer - Cubes (Original) 
Mesmer - Cubes (The Peepshow Ownerz Rmx)
Mesmer - Cubes (Wrexx Rmx)
Mesmer - Cubes (Mars & Freak da Bass Rmx)
Mesmer - Cubes (Mike Lennon Rmx)
Mesmer - Cubes (Great Scott Rmx)
Catalog: SCAR08 
Release date: May 11th, 2010  
Label: Scarcity Records ( http://www.scarcityrecords.com )  

Phat beats and deep, intense, mind bending dancefloor rocking atmosphere is what Cubes is all about.  
The Peepshow Ownerz came up with a deeper, darker remix in their famous manner, while Wrexx summoned his champion sound and did it again with a huge shrill breakbeat poured with glitchy edits and acid lines. 
Mars teamed up with Freak da Bass for this one and together they provided a real imposing tech breaks remix with driving, opulent, ample bass line that will surely make your trousers pump.  
London producer Mike Lennon took a different approach on the original, giving it a nice and fresh breakstep/garage feel fueled by beautiful melodies layered together over a dark, twisted bassline. 
Great Scott does nothing but surprising everybody nowadays with cool, fresh innovations over oldschool-ish breakbeats; he took the original vocals and put them into the glitch blender, he goes from breaks into dubstep and back into breaks again, he chopped the whole stuff into so many little re-edits we've just lost count. 
Its crazy! Just hear it for yourself.  
buy on beatport: 

www.beatport.com/en-US/html/co… 

Some reactions:
Kevin Beber - "Original - Fucking awesome tune mate! Straight on the ipod  Good to hear you are still flying the flag for REAL breakbeat!"  
Karton (Sound of Habib) - "Another awesome Scarcity package - Original and Mars Remixes will get plays!"  
Stefan Anion - "Original - Sick!!! I love it man. Keep'em coming."  
Mr No Hands - "Great set of remixes!"  
Retroid (Morphosis, Ego Shot) - "Awesome release! Original, The Peepshow Ownerz, Werxx Remixes for me. Will spin them out!"  
Bill Vega (En:vision) - "Original for me, top work!"  
Farace (Kickit Rec) - "Of course it is dope bro!"  
B-Phreak - "I really like them all, but my favourite track is the Original version with the phat beats and a intensive atmosphere. Well done, sir!"  
Adam F (Breakonomics) - "Mesmer, superb as always! Full support this end my man! Keep up the great work."  
Kultur (iBreaks) - "My favourite is The Peepshow Ownerz Remix. Fresh Groovy Breaks! The Original mix and the Great Scott Remix are fantastic too! I will support these (Rating: 4/5)"  
Line of Sight (Morphosis, Scarcity) - "Wicked remixes from Peepshow Ownerz, Mars and Freak da Bass, Mike Lennon and Wrexx, but I am all for the Original which I know for quite some time already and I have to admit that it is one of my favorite Mesmer tunes ever! I have already played it in some of my sets and I will continue to support it!"  
Ian "Daniella Downs" (Dead Famous) - "Wrexx is the fucking man! And nice stuff by Mr. Lennon as always as well"  
Parallax Breakz (RUNE, Scarcity) - "This is an excellent Scarcity release! First of all, I want to say that cover is wicked! All tracks are very interesting. My choice are very stylish progressive Original by Mesmer and deep tech & melodic version by The Peepshow Ownerz. Great stuff. Thank you!"  
Pale Penguin (The Scientifics, VIM Records) - "Scarity is on fire again! Another solid release for the label. The winners for me are the Original and the rather excellent darkish dubstep Mike Lennon Remix! Full support!"  
Duane Barry (Digital Sensation UK) - "The Original is just fantastic! All the tech elements blend perfectly with the vocal and synth stabs, will be playing this for sure! Peepshow Ownerz Remix is also wicked"  
Lee Martin (Dusted Breaks) - "Really feelin the Original but the Mars & Freak Da Bass Remix is the winner for me here! Full support."  
Nick D (Big Square Records) - "Cubes is a cracking release, liking all the mixes TBH. For me I think the Original mix of Cubes is probably my faveorite one, nice & deep yet uplifting & crisp. Out of the other mixes I like the Mike Lennon Remix, a heavy bass shuffling steppa, moody & arrogant; lovely stuff! He's defo got a talent that boy. When I saw you had a Wrexx Remix I was well excited! His remix of Cubes is very Wrexx - And that's why I like it! Lovely release here mate. Keep up the good work."  
Benjamin Vial (Plasmapool, Erase, APe, Future Perfect) - "I like the Wrexx Remix; proper oldschool lush! This is my kind of breaks!"
www.beatport.com/en-US/html/co…
scarcityrecords.digital-tunes.…
www.junodownload.com/products/…