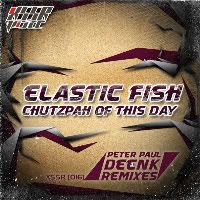 Chutzpah Of the Day (Original mix)
Chutzpah Of the Day (Deenk remix)
Chutzpah Of the Day (Peter Paul remix)
Release: 12/25/2010
Catalogue number: XSSR016
Elastic Fish are a name that has been fast gaining a reputation for driving, techy beats within the Breakbeat scene and with this package they continue their sonic assault with another quality release. Hailing from Russia like the mighty XSSR Music themselves this, the 16th release on the label shows why XSSR and Elastic Fish are Russians to be taken seriously.

Chutzpah Of the Day Starts off with some crunchy, rolling breakbeats and eery stabs and samples to get you in the mood. After a short interlude the track drops back in and continues to build in pace and energy as more elements join the mix. A guitar riff which you can't help but jump around too appears out of nowhere for a split second, before it's wrapped up with the breaks, beats and bleeps of what has gone before. The pace of the track then shift slightly as we're treated to a halfstep break of epic proportions before the track rolls back in with a massive, hands in the air riff then stripping back for the finish.

Another rising star of the scene, Deenk steps up to do the 1st remix Chutzpah of the day and does a great job of keeping true to the original whilst giving his own, high energy twist on the proceedings. The guitars from the original feature heavily in the build up and breakdown so when the drop hits with it's jacking bass and thumping beats this will send many a dancefloor crazy. Packed with energy throughout the 2nd breaks brings that haunting guitar line back in before Deenk treats us to a glitch laiden buildup to an even more slamming 2nd drop.

The third track on the package is another remix, this time from Peter Paul. This one is a peak time, tech breaks roller of the highest calibre. Tight, punchy beats, bubbling bass and driving stabs roll things along with relentless precision. The guitar from the original features again in the break but to a much lesser extent. Once the main track drops it build and builds, leaving you thinking it's got nowhere else to go until a massive synth drops into the mix and takes things to another level entirely. This is peak time, main room breaks at it's best.
Get it now from our music store: http://store.xssrmusic.com/
or Beatport:

Elastic Fish - Chutzpah Of This Day (Peter Paul Remix)