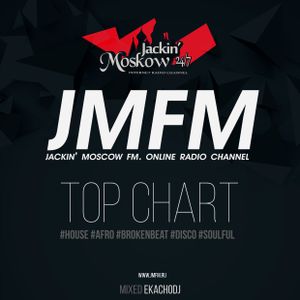 Jackin' Moscow FM monthy Top chart hot releases and uppromo tracks.. Mix by Ekacho (Jackin' Brothers)
1 Rapson - Heat (feat. Nathan Thomas) [OPOLOPO Remix]  / Defected rec.
2 Angelo Ferreri - I'm Talking To You / Soulfuric Trax
3 Can t Get Enough – Serge Funk / Groove Culture rec.
4 Karl8, Andrea Monta - Funky Moments (Original Mix) / Mood Funk Records
5 Man Without A Clue feat. Lee Wilson - Do You Dance (Extended Mix) / Clueless Music
6 Sebb Junior - Ghetto Boy (Studioheist Remix) / Papa Records
7 The Joi-Fuhl - Don't You Worry (feat. ShezAr) [B's Spen - Reelsoul Believe Dub] / Soulfuric
8 Hipcats (Extended Mix) – David Penn, ATFC / Armada Subjekt
9 Silvano Del Gado - From Jamaica to Brasil / Del Gado Rec
10 Sir LSG - Memories (feat. Kafele, Jaidene Veda) [Yoruba Soul Main Mix] / GOGO Music
#house #deephouse #chicagohouse #funkyhouse #soulfulhouse #afrohouse #nudisco
Pages and  promo: