BreakZhead feat. Detach - Paranoid [Subtribe Records] Out now!!!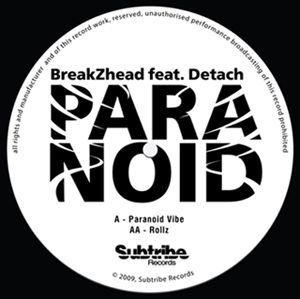 BreakZhead and Detach "PARANOID"
Style: Breaks
Label: Subtribe Records
Release date: 08/06/09
BreakZhead и Detach, известный больше как DJ Vanish, во главе отечественного рекорд-лейбла Subtribe Records, уже успели принести в мир бреикбита много жирного звука и хорошего драйва. Новый релиз лейбла включает в себя всё самое лучшее от Dubstep, Techno и Tear-Out Breaks музыки. Subtribe Records представляет релиз "Paranoid" от BreakZhead and Detach.
Torqux (Duel Calibre): "Wicked tunes, keep up the good work".

Journeyman vs Barrcode: "Rollz is firing , tuff beats and heavy rollin bass line, this'll move the floor fo sho"

White Papoo (RocStar Recs, ProducerLoops.com): "Making for the danceFloor, BreakZhead & Detach are one of this new Breaks generation Made in Russia. Paranoid Vibe: It is realy good vibe track, The Groovy drums, the rolling Bass and them are killer, so you can easy integrate in your Djset and take a sexual pleasure . Good work mate."

Kickflip: "Some good sound design and edits. More on the tear out sound than I go for, but good tunes - definitely seem to fit with the Afghan Headspin/Mars/Bombtraxx end of breaks"

Ian aka Daniella Downs (label manager for dead famous recordings): "Better stuff than i've heard from BreakZhead in the past i think. The rollz tune has potential. Paranoid vibe the one i would enjoy being played out. Cheers"

Duane Barry: "I love the great breaks/dubstep hybrid of Paranoid Vibe especially the bassline, Rollz continues this futher with nice tweaked synth and complex beats - full support :D"

Jay Cunning: "Get down dirty with Paranoid Vibe!"

Preview and purchase: